Family Travel – New York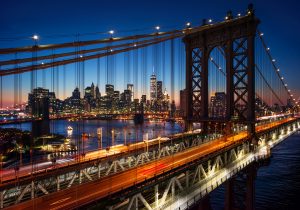 Travel Time: 20½+ hours from East Coast (depending on duration of stop-over)
Weather: New York is wonderful to visit year-round. Spring and autumn are highly recommended for comfortable travel in the city – crisp, mild and pleasant. Summers are hot, humid and buzzing with energy, while winter transforms the city into a winter wonderland, with temperatures below zero and, often, snow-covered streets.
Language: English
Currency: USD (US Dollar)
Major attractions: Central Park, Chelsea & the High Line, Times Square, Rockefeller Centre, Empire State Building, Brooklyn & Coney Island
Holiday types: City break & shopping
New York is full of as many activities for kids as it has for adults! The city's expansive green spaces are super kid-friendly, each full of playgrounds, unique entertainment and interesting areas to explore. New York is home to a wealth of truly world-class museums, many of which have dedicated children's programs and tours specifically designed to engage the minds of young kids. Imaginations will run wild in this buzzing city and you will find the family spoilt for choice with sights and activities to engage in.
Kids of all ages will have a ball at Coney Island, family-friendly museums, festivals and events are a source of entertainment year-round and sprawling, iconic Central Park is a green wonderland for children – let young kids play in the park's 21 playgrounds, take a spin on the carousel and bike around the scenic paths.